Neither Dodge or Plymouth was shy about letting the world know what was under the large black hood scoop. Super Bee hoods featured SIX PACK in larger red letters, while the Road Runners hood decals read, 440 6 BBL. This served as fair warning to anyone foolish enough to take one of these brutes on at a stop light.

The air cleaner base on the 1969 Six Pack Road Runner and Super Bees was unique to that application with its fiberglass hood. It is rectangular in shape and has a large rubber seal that fits against the bottom of the hood. The small pieces of rubber hose in each corner of the base are attached to drain tubes that allow any water taken in by the scoop to be siphoned off. Chrysler did not add any decals to the air cleaner lid other than those containing service information.

Karakashian has re-jetted his center carburetor with 65 or 66 jets depending on the air quality. For the end carburetors he uses the Holley jetting kit number 1085-5276 which is the same as the Mopar Performance kit PN439446. The distributor is the stock unit with Hemi springs and weights that provide a quicker advance curve. The total timing is set at 40 degrees.

The front valence panel on Bob Karakashian's 1969 1/2 Super Bee shows a few stone chips after 30 years of driving. It's extremely solid for a 30-year old un-restored car.

Bright Red is one of the four original colors in which the 1969 1/2 Six Pack Super Bees could be ordered. The paint on Karakashian's Super Bee is original and is in excellent shape. It is hard to believe that this car rolled off the assembly line over 30 years ago!


'69-1/2 

SIXPACK / SIXBBL

REGISTRY

HALL OF FAME

MR SIX PACK-BOB KARAKASHIAN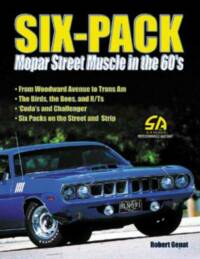 Bob "Mr. Six Pack" Karakashian's Super Bee - by Robert Genat

Bob Karakashian grew up in the Detroit suburb of Highland Park, two scant miles from the original Chrysler Headquarters. One of his neighbors was Chrysler legend, Tom Hoover. Karakashian used to ride his bike by the Hoover home and often saw the Ramchargers 1963 racecar sitting in the driveway. Karakashian introduced himself to Hoover and the relationship soon became one of mentor and student, with Karakashian soaking up every word Hoover said. Karakashian spent evenings at Hoover's house in his garage/workshop watching the master at work. When Hoover did something, he fully explained to Karakashian not only what he was doing, but also why he was doing it. The two remain friends to this day.

In 1969, Karakashian had decided to buy a new Mopar and considered the 440 Dart. When Hoover told him about the upcoming '69 1/2 Six Pack cars, Karakashian quickly placed his order for a Super Bee. When the car was delivered, his father couldn't understand why there were no hubcaps. With only 1,400 miles on the odometer, the Super Bee was already in Hoover's garage being taken apart. Hoover's simple modifications made an improvement in the car. Hoover suggested that he take it to Ted Spehar's Sunoco service station for some transmission modifications. (This is the very gas station on Woodward Avenue where street-racing legend Jimmy Addison based his Silver Bullet.) This was the place for Mopar owners to hang out with their cars. Upon completion of the transmission work on the Super Bee, the mechanics urged Karakashian to street race the shop's new '69 1/2 Road Runner right there on Woodward Avenue. Although intimidated by the tricked-out Road Runner, complete with legend Addison behind the wheel, Karakashian consented. The light turned green and Karakashian was gone. The next day when Hoover saw Karakashian, he told him that the news was circulating throughout Chrysler that he (Karakashian) had blown off a car filled with trick parts and thought to be the ultimate 440.

Bob Karakashian grew up in the Detroit area and was heavily influenced by his friendship with Chrysler engineer Bob Hoover. When it came time to buy his first new car, he went to the Dodge dealership and ordered a 1969 1/2 Super Bee with the new Six Pack option.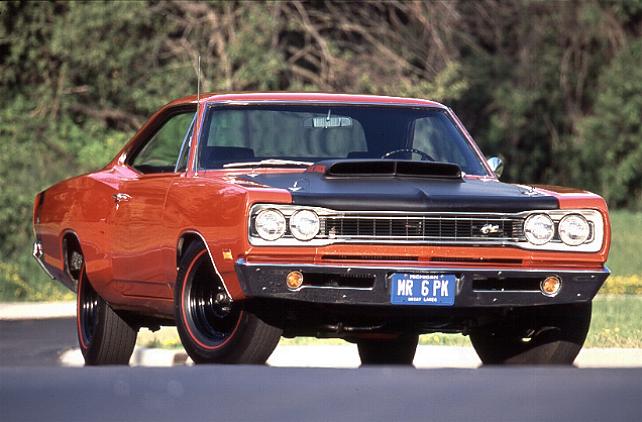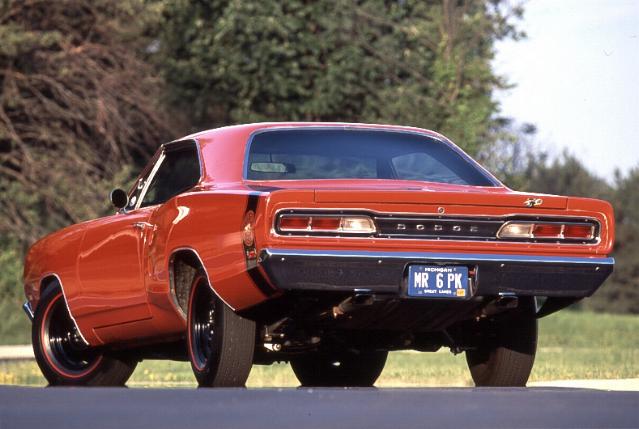 Bob Karakashian's tuning skills have earned him the nickname of "Mr. Six Pack." He has added that in a shortened form to his personalized Michigan license plate.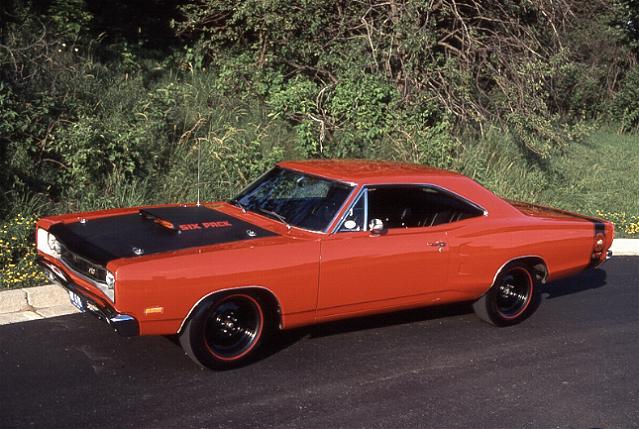 Today, Karakashian continues to race his low-mileage (19,500) original Super Bee. He competes only in factory stock drag race events, where the allowable modifications include radial tires, electric fuel pumps, and mufflers. Recently, because of differing interpretations of the word "stock," a program was put in place to certify vehicles as stock. Vehicles are torn down, inspected, and certified. Karakashian was one of the first to volunteer and his Super Bee was certified as stock.

A stock (closed exhaust and street tires) 1969 1/2 Six Pack Super Bee runs the quarter in an elapsed time of 12.4 seconds at a speed of 111 miles per hour, with a best estimated time of 12.26 seconds at 113 miles per hour. These times are in the same range as those of a well tuned Hemi or ZL-1 Camaro.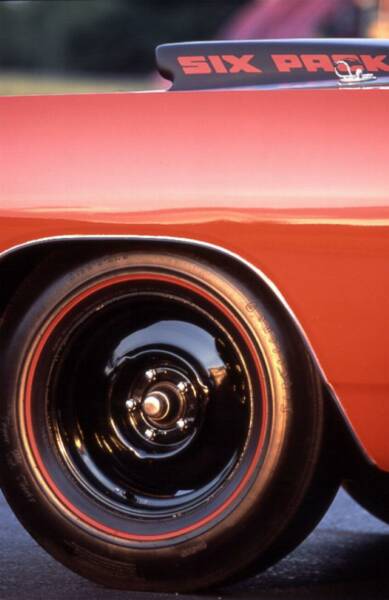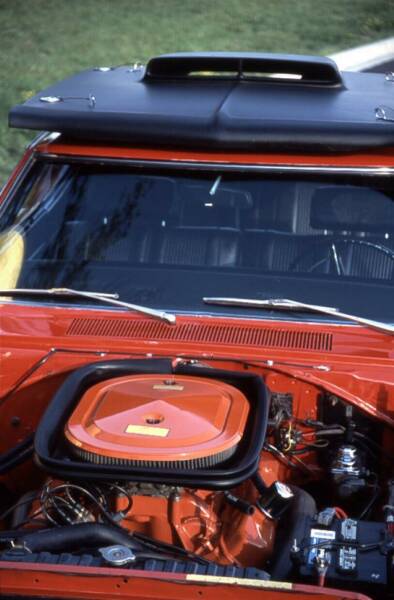 1) Bob Karakashian runs reproduction bias-ply red line tires on his Super Bee. These tires give him the best traction at the Pure Stock drags. The wheels are the original 15-inch versions that were also used on the Hemi equipped Super Bees.

2) When Karakashian lifts the hood off of his Six Pack Super Bee, it goes on the roof of the car. He has added foam strips on the underside of the hood so it won't scratch the paint on the roof.

3) When Bob Karakashian went to his local Dodge dealer over 30 years ago to order his Super Bee, he asked for a radio, heater, and the most nasty 440 engine ever produced. His no-frills Super Bee was ordered with a black bench seat interior and a column shifted TorqueFlite. For safety's sake, he replaced the original seat belts with racing-style belts.

Mr. Six Pack's Performance Tips

Karakashian learned well from his mentor Tom Hoover. In doing so, he also accepted Hoover's philosophy of freely sharing information. Speed "secrets" are not kept close to the vest, but openly shared with those willing to listen and learn. Karakashian's first rule governing 440 Six Pack performance is not to over-cam. Most enthusiasts love to hear the rump-rump of a long duration cam with lots of overlap. He has found this to be counterproductive when running in a pure stock class with stock exhaust manifolds. Karakashian's suggestion is to use a factory restoration cam. He has also experimented with several custom grinds that match the pure stock rules. He has installed a fairly conservative grind cam in his Six Pack Super Bee. He also suggests running the cam in the factory position or slightly retarded. Advancing the cam will add to the 440's already powerful low-end torque. Karakashian suggests a 0 or –2 degree setting when installing the cam.

The Six Pack's carburetors play an important role in the car's performance and simple maintenance will make them operate at maximum capacity. Mounting the carburetors to the manifold correctly is critical. Holley provides rubber carburetor base gaskets in their rebuild kits. These work better than cardboard or composite gaskets. When tightening the carburetors with these gaskets, the bolts need only to be snug and not fully tightened. After mounting the carburetors, Karakashian manually opens and closes each one without the linkage attached, to check for binding. An over tightened carburetor will bind. Karakashian's approach to jetting is simple. In the center carburetor, he runs number 65 or 66 jets. For the outboard carburetors, Karakashian uses the Holley jetting kit number 1085-5276 which is the same as the Mopar Performance kit PN439446. He also recommends changing the outboard diaphragm springs to either the "purple" or "yellow" springs. The final addition is a fuel bowl vent extension tube on all (or at least the center) carburetors. This will prevent fuel from sloshing down the carburetor upon a hard launch. Each carburetor has four small air-bleed holes in the top center. These holes can easily become blocked, adversely affecting performance. Karakashian suggests making sure they are all fully open and clean.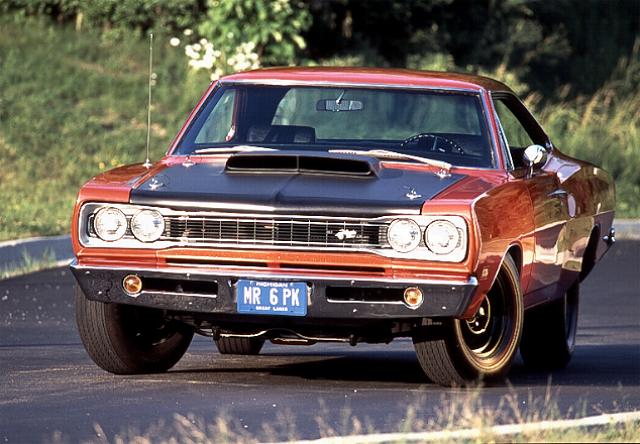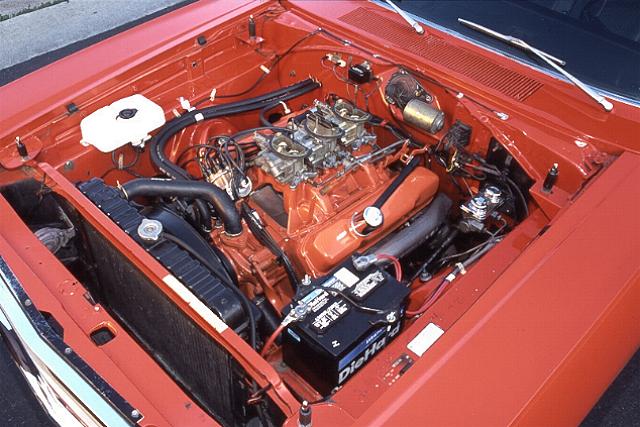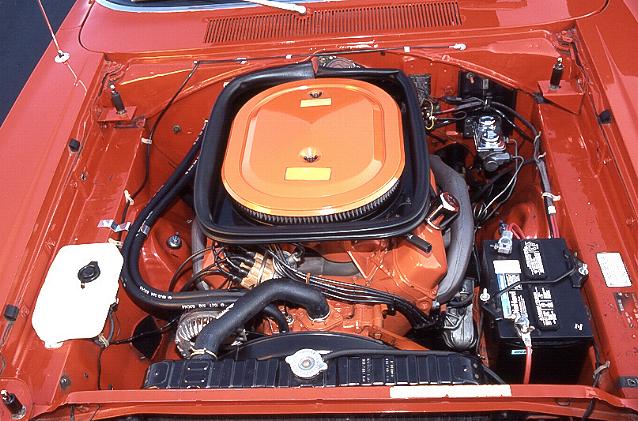 The performance of Bob Karakashian's 1969 1/2 Super Bee proves that attention to detail and blueprinting pays off. His original 440 engine has been bored .060 over for a total displacement of 453 cubic inches. The deck height of .027 gives him exactly 11:1 compression.

When Karakashian is racing in Pure Stock drag racing events, the stock air cleaner is required to be in place. With the exception of a replacement battery and a few chrome pieces, Karakashian's engine compartment looks the same as when he picked the car up from the dealer over 30 years ago.

When setting the idle, Karakashian recommends removing the linkage to the outboard carburetors. Once reattached, the linkage must be inspected to see that it doesn't move the center carburetor pivot. A final check includes fully opening the center carburetor and opening and closing the outboard carburetors to check for binding. Karakashian uses the standard 5/16 fuel line from the pump to the carburetors. He suggests a 3/8 line from the tank. Karakashian believes that an electric fuel pump at the tank is an excellent addition, but because of a change in the pure stock racing rules, he doesn't run one any longer. The stock mechanical pump on the engine works well and provides a maximum of 6psi, which is the maximum suggested for the Mopar Holley Six Pack carburetor setup. Karakashian uses a Carter mechanical pump (M6903) that provides high volume of fuel at low pressure. Pure stock muscle car drags require that the stock air cleaner be in place. Karakashian currently runs a K&N filter, but plans to compare it with a standard Mopar replacement to see if one is any better than the other.

Karakashian runs a slightly modified version of the factory dual point distributor, with vacuum advance. He uses the springs and weights out of a race Hemi distributor. There are no modifications required to make this change. This revision provides a quicker advance curve to which the 440 engine responds well. Karakashian sets the total advance at 40 degrees on his 440 Six Pack.

Good performance from a 440 wedge engine is directly tied to an excellent three-angle valve job. Karakashian takes his heads to a shop that specializes in competition cylinder head work. He has retained the stock valve sizes, but uses Hemi valve springs (360933) and high-quality aftermarket locks. When attaching the heads, he adds head bolt washers. To allow the engine to rev freely, Karakashian sets the lifter preload at 0.010 inch. Because of the nonadjustable rocker arms, this is accomplished using special shims that fit under the rocker shafts. This preload setting is especially critical after having the heads milled or changing the cam.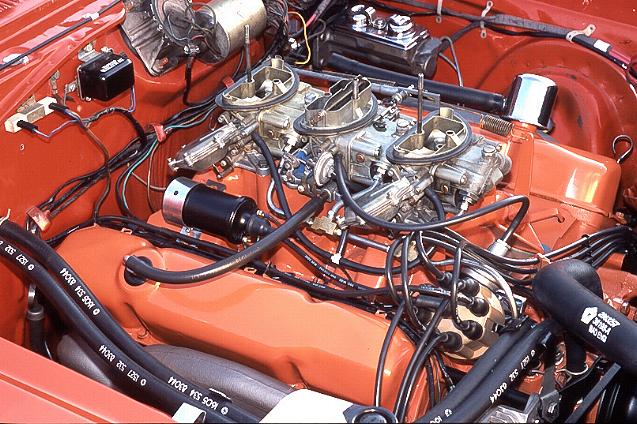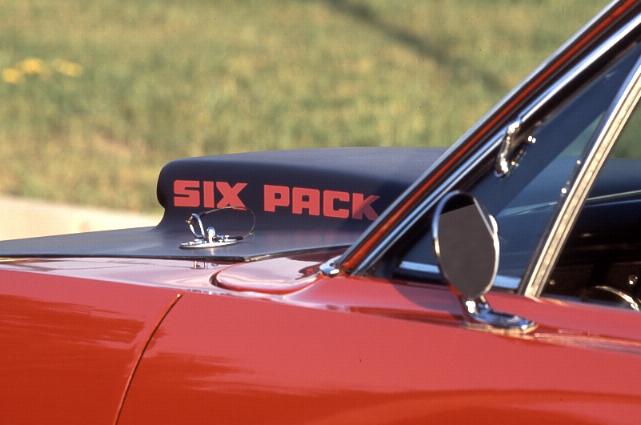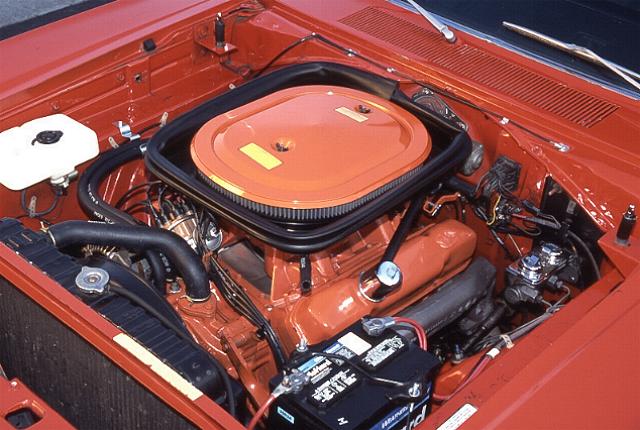 Karakashian recommends a good shift kit upgrade to the TorqueFlite. He also believes that the stock torque converter works best. Torque converters with a smaller diameter will hurt top end speed and exacerbate low-end wheel spin. He also recommends manually shifting at the same RPM on each run to better determine if the changes being made are helping or hurting performance. When racing, Karakashian always shifts his Six Pack Super Bee at 6,000 RPM

When racing in a pure stock class, the factory cast iron exhaust manifolds must be used along with a closed exhaust system. Often, 440's have a poor transition where the H-pipe connects to the manifold. A local high-performance muffler shop can make a set of pipes that look like factory units. Karakashian recommends Walker Ultra Flo mufflers for their performance level and because they look similar to the original factory mufflers.

Karakashian uses stock rear springs that have been arched 1 1/2 to 2 inches. He only uses clamps on the front half of the rear springs. The rear shocks are Mopar Performance Super Stock shocks and the front shocks are standard units available at Sears. The front torsion bars are standard V-8 units. He has tried six-cylinder torsion bars, but finds that they tend to sag with the passage of time. The tires are repro Polyglas redlines. They give excellent traction when inflated to 35-45 psi.

Karakashian loves his '69 Super Bee and is impressed with the package that the Chrysler engineers put together. "The '69 1/2 cars had their engines hand-assembled," says Karakashian. "The internal parts were magnufluxed so the quality would be high. Building engines this way was very unusual for a production vehicle." Karakashian also states that the '69 1/2 Six Pack cars were true 12-second cars in stock form. He doesn't look much further than the local Mopar catalog for his parts. "I would like to stress the importance of sticking with the factory parts that the engineers so beautifully put together," says Karakashian. Just because you add aftermarket race parts, doesn't mean you're helping out the combination." His ET slips prove his point as he consistently runs his 1969 Six Pack Super Bee down the quarter in the low 12-second range at speeds of 111 miles per hour. With these kinds of times, Karakashian has been deservedly called "Mr. Six Pack."

Karakashian has made the most out of owning his Super Bee. He has fine-tuned the engine to make it a consistent performer. While his unrestored Super Bee is as clean as any show car, he'd rather repeatedly hammer it down the quarter-mile than sit in a parking lot car show. For a diversion, he'll occasionally take one of his other Mopars down the quarter. He owns a 1970 Hemi 'Cuda and a 1965 Plymouth A-990 Hemi clone. Both are street driven and both are fast.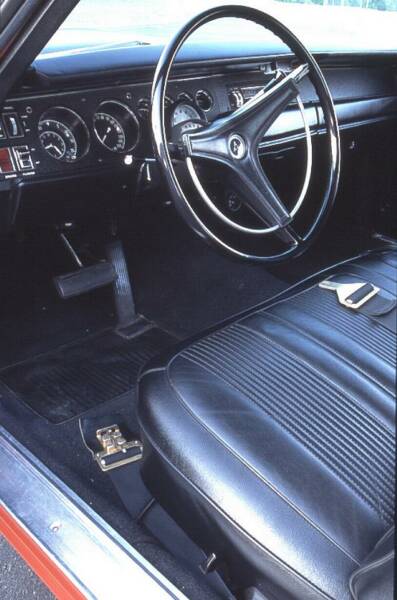 < /div>
A special thanks to Robert Genat for granting permission along with that of his publisher for allowing the Lift Off Hood Registry to copy the above text and pictures from his book SIX-PACK Mopar Street Muscle in the 60's
This must read is available at fine book stores everywhere or can be ordered on-line at Amazon.com

While your there check out the other 56 Titles available by Robert Genat 
Please respect all copyright issues when it comes to the contents of this page.